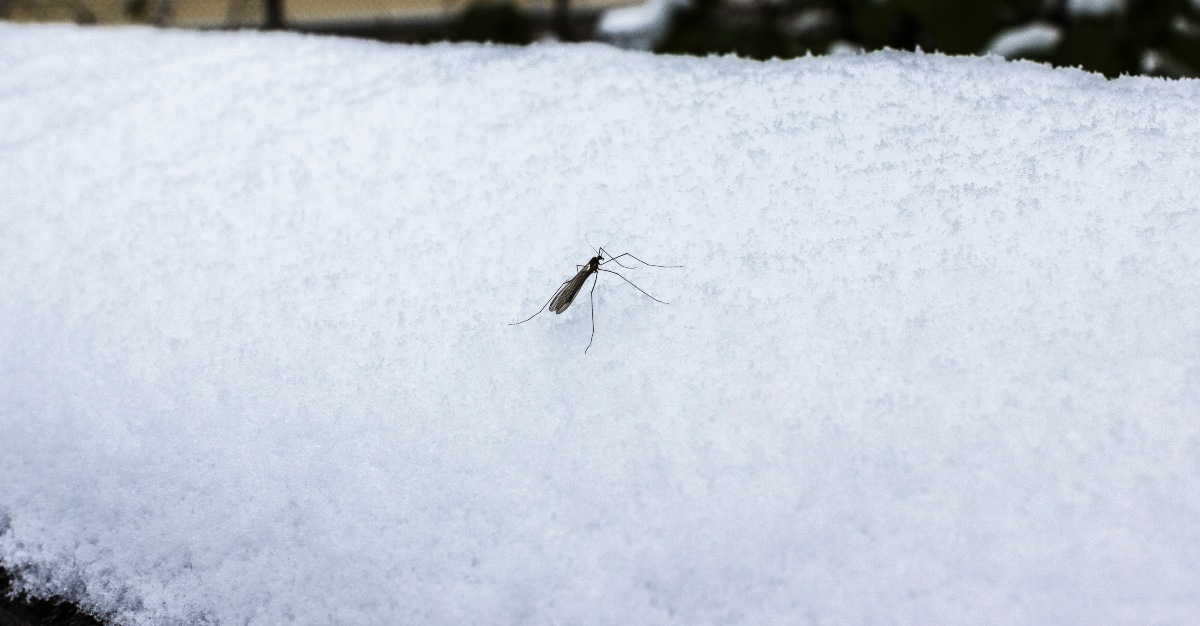 If you assume that mosquitoes die off in the winter, you're not alone.
As the temperature drops and reaches the air gets cold, the winged insects lose their ability to fly. So, it makes sense to guess that they can't make it through the season.
Although, many female mosquitoes and eggs have a technique that allows them to get through the season. Much like you see in bears and similar animals, mosquitoes have their very own unique form of hibernation.
How Do Mosquitoes Use Hibernation to Survive the Cold of Winter?
The key to survival for female mosquitoes is a form of hibernation called "diapause." As cold temperatures settle in, females fatten up approximately 10 times their usual fat accumulation and enter diapause.
It's important to note that "cold" to a mosquito doesn't necessarily mean freezing temperatures. Anything below 50 degrees Fahrenheit is the danger zone and will trigger the need for hibernation.
Once the need for diapause has set in, females burrow. The insects then enter stasis and wait to be able to start collecting blood for egg development during warmer weather.
After emerging from hibernation, the mosquitoes are nearly ready to lay their eggs. During this period, finding enough protein for egg development becomes top priority. For humans, this means bites. If you're wondering why mosquitoes bite some people more than others, view our article here.
More tropical species like the infamous Aedes aegypti do not go into diapause in the first place. The only way these species survive is through their eggs. The species is behind diseases like Zika, yellow fever, dengue and the West Nile virus.
Rather than waiting to lay eggs after the winter has passed, female Aedes aegypti mosquitoes must undertake the task before they die off. These eggs then go into a state of suspended development until rainfall re-submurges and reinvigorates them. Eggs can survive in as little as half an inch of water.
Unfortunately, as the eggs lie dormant, illnesses such as Zika potentially may as well. This "vertical transmission" from mother to offspring was discussed in a 2016 paper published in the American Journal of Tropical Medicine and Hygiene. The research concluded that vertical transmission was possible in lab conditions, but it's uncertain whether this naturally occurs in nature.
What About Mosquitoes Indoors?
Mosquitoes can also survive cold temperatures by hiding out indoors.
Some may find shelter for the season by flying in through the back door. It may seem terrifying to know you're housing one of these insects, a more dangerous problem is standing water. Other mosquitoes can survive long-term by making use of standing water to reproduce.
As the Washington Post notes, some species like the Aedes aegypti can actually do well breeding indoors. The species prefers to lay eggs in container walls as opposed to natural water sources such as ponds.
You can prevent a problem with mosquitoes in your home this winter by diligently emptying out containers such as flowerpot saucers, refrigerator drip pans and vases.
Because eggs can stay attached to the sides of these containers for months, it may be necessary to scrub containers down each week. There may be some homes for standing water that you can't easily eliminate. In those situations, consider purchasing a chemical solution and reapply as directed.
If you want to get an early start on eliminating prime mosquito egg spots outdoors, look for items that collect water such as buckets, birdbaths, trash cans, tire swings, grill covers and rain barrels.
Did you previously know how mosquitoes survive the winter? Have you ever had problems with mosquitoes indoors? Let us know in the comments below, or via Facebook and Twitter.
Written for Passport Health by Katherine Meikle. Katherine is a research writer and proud first-generation British-American living in Florida, where she was born and raised. She has a passion for travel and a love of writing, which go hand-in-hand.