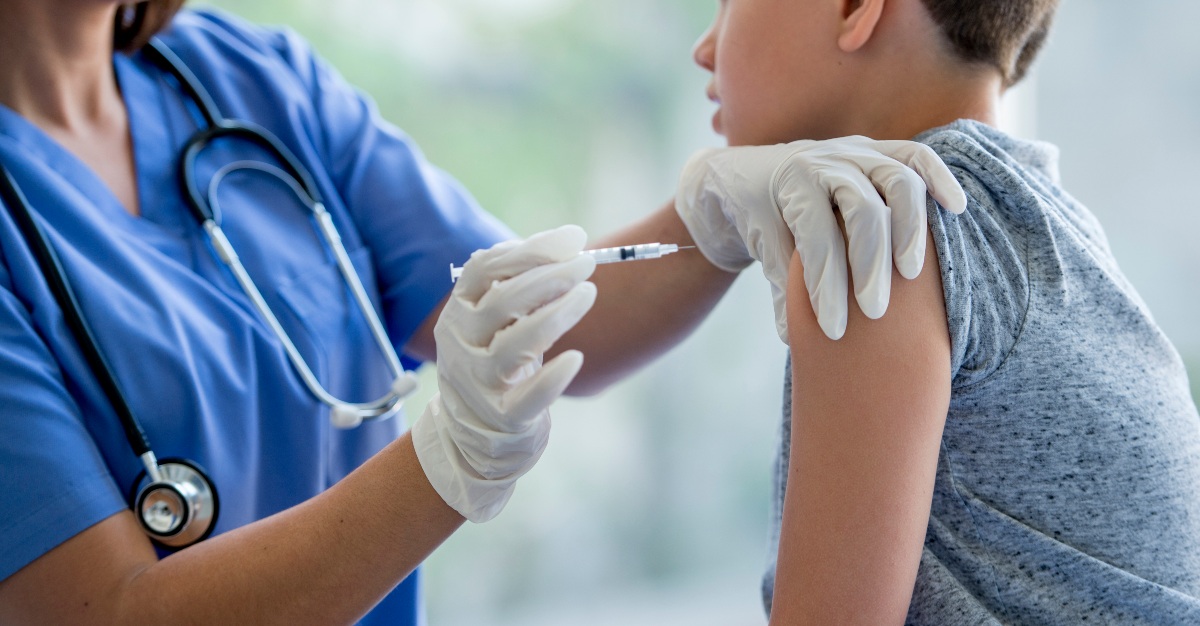 The human papillomavirus (HPV) remains the most common sexually transmitted infection. According to the CDC, about 79 million Americans are currently infected and around 14 million become infected with HPV each year.
Although, unlike with many other common illnesses, we have a way to prevent HPV. The widely-available HPV vaccine is nearly 100% effective against nine strains.
Upon infection, the virus can cause a wide range of health problems.
For most, it won't show any symptoms, one of the reasons the STI is so commonly spread. But, HPV can also lead to symptoms like genital warts or something much more severe, such as cervical cancer.
Currently, the CDC recommends those from ages 11-12 to receive two doses of the HPV vaccine. But, a recent study has shown that one dose may be enough to protect against the virus.
How Can One Dose of the Vaccine Prevent HPV?
A study published in the medical journal JAMA Network Open looked into how the vaccine prevents high-risk HPV. They found women without the vaccine contracted high-risk HPV much more than women with one, two or three doses of the vaccine.
Researchers then examined the data from the National Health and Nutritional Examination Survey. They surveyed 1,620 women in the United States ranges in ages from 18 to 26. Results showed women who only received a single dose of the HPV vaccine had similar protection against the vaccine-type infections compared with those who received additional doses.
Since 2016, the CDC has recommended a two dose routine vaccine for adolescents. The second dose of the HPV vaccine would usually occur 6-12 months after that initial dose.
At the moment the HPV vaccine coverage is less than 10% globally. Those rates remain low despite the STI being so "common that almost every person who is sexually-active will get HPV at some time in their life if they don't get the HPV vaccine."
The Benefits of a Single-Dose Vaccine
In many countries around the world, young children are unable to complete the multiple doses for the vaccine. Whether it's due to cost or the stigma of receiving a vaccine against a sexually transmitted virus, they often lack all the doses.
The study examined HPV vaccination rates and infection rates among women between 2009 and 2016. What they found supports vaccine trials that showed similar effectiveness of one dose versus two or three doses.
The HPV vaccination offers lifetime protection against a virus that can cause cancer.
The virus itself is a group of more than 200 related viruses. Those viruses can lead to many types of cancer including cervical, anal, and oropharyngeal (mouth and throat) cancer. Most of the population infected with HPV is in their late teens and early 20s.
With this in mind it's important to understand the timing of when you should receive the vaccination against HPV.
The HPV vaccine is recommended through the age of 26. Even adults between 27-45 can receive the vaccine, although the effects are less beneficial. Even with this age range, only 51% of adolescents in the U.S. have completed the entirety of the vaccine series while 68% have received at least one dose.
If the success rate of the HPV vaccine is just as effective with one dose as it is with two doses, those vaccination numbers could improve. Even without the full set of doses, more people could have protection against the virus.
The study's senior author Ashish Deshmukh is an assistant professor at the University of Texas Health Science Center at Houston's School of Public. He stated in a recent press release that, "if ongoing trials confirm sufficient efficacy and sustained duration of protection from a single-dose regimen, vaccine initiation (as opposed to the series completion) will become a more achievable metric of population coverage."
If more studies and trials show that a single dose works, then more people might consider vaccination. With that, the vaccination rates against HPV could noticeably increase.
What Other Issues Are Lowering HPV Vaccination Rates?
The multi-dose HPV vaccine was first introduced in 2006. A vaccine has been available to help prevent most cervical and anal cancers among those exposed to the virus.
Yet, a stigma around vaccinating adolescents against an STI has kept vaccination rates low. Many parents don't consider vaccinating their children at the ages of 11-12 because HPV is a sexually transmitted virus.
It's important to provide the best protection before any chance of infection. Much like with measles and other childhood vaccines, the HPV vaccine can protect a child from dangerous illnesses for a lifetime.
There is no treatment for the virus itself. Each year over 19,000 women and 12,000 men are affected by cancers caused by HPV. Despite these numbers, many people are unaware that HPV can cause different forms of cancer.
Lastly, the low vaccination rates boil down to the sheer cost of having a multi-dose vaccination.
Better awareness and the multi-dose hurdle can help with some of these problems. With those changes, vaccine rates for HPV could sky rocket worldwide, and more people could be protected against this common virus.
Do you have any questions about the HPV vaccine? Do you still need to receive a catch-up dose for the vaccine? Passport Health can help. Give us a call at , or book an appointment online and speak to a travel health nurse.
Did you receive the HPV vaccine when younger? Do you think a single-dose vaccine plan would encourage more people to do so? Let us know in the comments, or via Facebook and Twitter.
Written for Passport Health by Brianna Malotke. Brianna is a freelance writer and costume designer located in Illinois. She's an avid coffee drinker and enjoys researching new topics for writing.