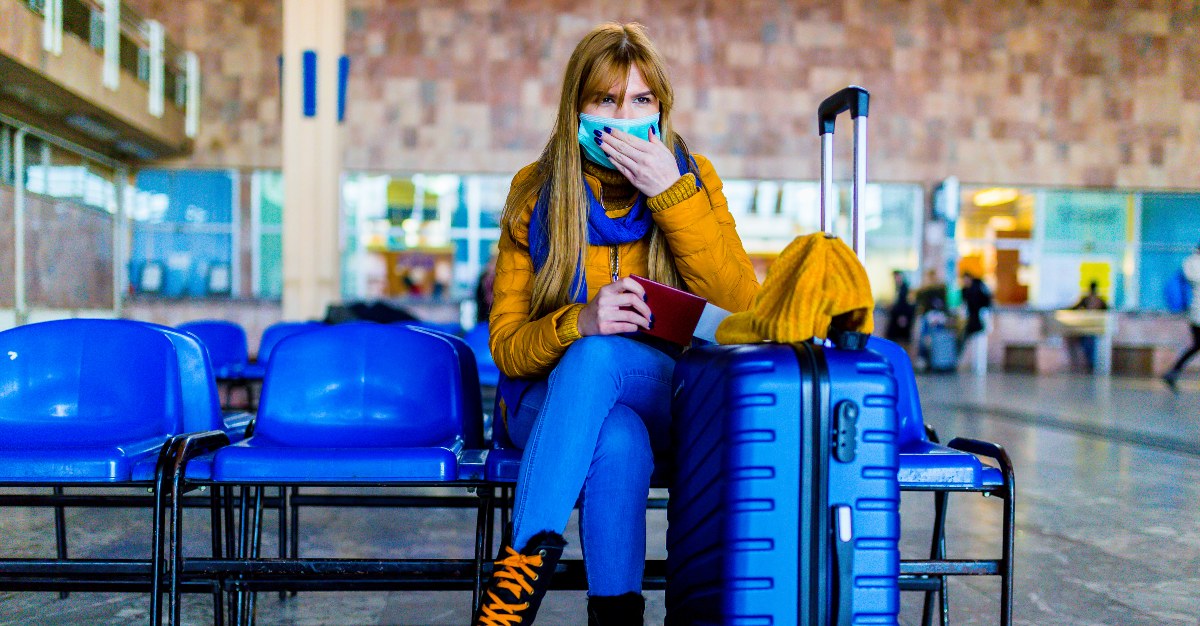 Traveling can spark fears over germs at the best of times. But, taking a trip during a major outbreak undoubtedly adds new gravitas to concerns, especially during something as serious as a pandemic.
You may find yourself asking questions like "Should I cancel my flight?", "How can I stay safe?" and "Where can I get reliable information?"
While minimizing travel may be ideal, it's not always possible. So, here are a few important tips for traveling to a region in the middle of a viral outbreak:
Get Information from Reputable Sources
First, being well-informed plays a vital step in protecting yourself from any illness. Conducting thoughtful research and trusting reputable sources over rumors will help you stay safe as you travel.
Public health workers at organizations such as the CDC and the WHO work to provide reliable information you can trust. Continue to look for up-to-date information frequently before, during and after your travels. Things can change as new research comes to light. Stay calm at all times and respect the advice of the trained professionals.
Follow Public Health Travel Guidelines
Be sure to follow professional public health guidelines and advice relating to your trip.
Heed travel notices like these COVID-19 examples from the CDC:
Warning Level 3: CDC recommends travelers avoid all nonessential travel to destinations with level 3 travel notices because of the risk of getting COVID-19.
Alert Level 2: Because COVID-19 can be more serious in older adults and those with chronic medical conditions, people in these groups should talk to a healthcare provider and consider postponing travel to destinations with level 2 travel notices.
Watch Level 1: CDC does not recommend canceling or postponing travel to destinations with level 1 travel notices because the risk of COVID-19 is thought to be low. If you travel, take routine precautions.
Know that travel notices do apply to layovers. If you cannot avoid stopping at a level 3 destination, it is recommended that you do not leave the airport.
Consider the Possible Risks for Yourself & Others
When traveling during an outbreak, consider possible risk factors for yourself and others. This is especially important when considering whether to cancel or postpone a trip.
Infection Rate & Severity
Find out who seems to be most at risk for infection and significant symptoms. Generally, older adults and/or those with underlying health issues will have a higher chance of developing severe illness. If transmission would be particularly dangerous for you or your traveling companion, do your best to judge whether the travel is truly necessary or advisable. If you do travel, take extra steps to minimize the possible impact. For example, remember that security bins may be the biggest germ hotspots.
Besides weighing the personal risks, think carefully about the risk that you may present to others. Seriously consider your duty to the safety of your fellow passengers and your entire community. Follow isolation warnings to the letter. Also, do everything you can to protect those around you, especially if they are notably vulnerable. If you are sick, stay home.
Transportation Types
Cruise transportation during a viral outbreak is not recommended. Cruises put a tremendous amount of people, often from all over the world, in close, constant contact. This creates a perfect situation to further spread a virus. If you do not defer your trip, discuss the event with your healthcare provider before traveling.
Most viruses and germs cannot easily spread on planes due to air circulation through HEPA filters during flights. Vicki Hertzberg, Emory University Center for Nursing Data Science director notes that, "In some aspects, the air on a plane is cleaner than what's going on in your new office buildings." Although, while flying you should still take care to clean your hands often. Like on the ground, you should also avoid contact with sick passengers.
Know Your Travel Policies
Thinking of taking out travel insurance? It may not be straightforward. NPR notes that regular travel insurance likely does not cover fears over viral outbreaks.
Instead, a CFAR (Cancel for Any Reason) policy would be necessary. Even then, you may find obstacles in the way. "A CFAR policy typically needs to be purchased within a couple of weeks from the time you booked your trip, it will usually only cover about 75% of your costs, and New York state does not allow residents to buy CFAR policies."
Policies may vary depending on a range of factors including your age, trip length, etc. Double check the insurance contract before you buy to ensure it covers everything you want.
Airline or cruise companies may establish temporary refund/change fee policies based on travel health notices. Although, the CDC cannot intervene on your behalf and request them.
Even if the company you're traveling with is not offering help with cancelations or flight changes, politely asking is still an option to try.
Take Recommended Precautions
There are still various steps to take in your everyday life to reduce risks of the virus.
Stay home when you are sick and wash your hands for at least 20 seconds. You should also avoid touching your face with unwashed hands are smart things to do anyway in your regular life. They are also invaluable precautions you can use to help prevent illness during an outbreak, especially when traveling.
See this advice from the CDC:
Avoid close contact with those who are sick
Do not touch your nose, mouth or eyes with unwashed hands
Cover coughs or sneezes with a tissue, then immediately throw the tissue away
Clean/disinfect surfaces and items you touch often
Wash your hands with soap and water thoroughly for at least 20 seconds. This is particularly key before eating, after going to the bathroom and after sneezing, blowing your nose or coughing.
If you cannot easily use soap and water, use an alcohol-based hand sanitizer which contains 60-95% alcohol
Stay home when you are sick
To exercise extra caution, be purposefully mindful of the many surfaces you touch outside your home. Elevator buttons, airline tray tables and other similar items can all carry bacteria.
Many businesses (including airlines) are likely using more rigorous cleaning schedules at the moment. But, it's still useful to bring alcohol wipes to clean areas you have personal contact with – say your seat belt or armrest.
Your phone can also help spread viruses, so cleaning your device consistently with a disinfectant wipe or cloth is probably a good idea.
Seek Help If Needed
No one wants an illness to spoil sightseeing fun or important business, but if there's a possibility you may be infected, take the necessary steps for the safety of both yourself and those around you. Contact a medical professional to help you determine your next course of action.
Don't forget that even if you don't experience any symptoms you may still be sick. Many COVID-19 patients presented as virtually asymptomatic or experienced the illness lightly, meaning they may have spread the disease to countless others without knowing. Remember, you may have unknowingly come into contact with an infection person.
Are you in need of more information to stay healthy while traveling? Wondering what vaccines or medications are available to reduce your risks of getting sick? Passport Health can help. Give us a call at , or book an appointment now and speak to a travel health nurse.
Are you currently traveling during an outbreak? Have you traveled during one before? Do you find our tips helpful? Let us know in the comments below, or via Facebook and Twitter.
Written for Passport Health by Katherine Meikle. Katherine is a research writer and proud first-generation British-American living in Florida, where she was born and raised. She holds certification in Epidemiology for Public Health from Imperial College London on Coursera. Her passion for travel and love of writing go hand-in-hand.